Casual BBQ or formal dining under the stars, ICEBREAKER is the perfect medium for formal and informal dining but with a difference, a superlative back drop and ambience that can only be experienced at sea.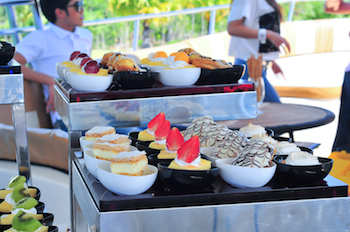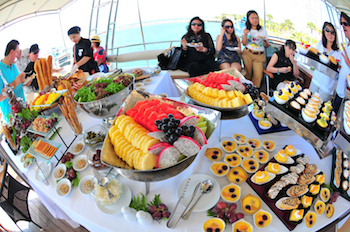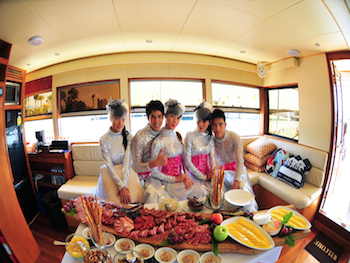 Imagine 5 star dinning on board Icebreakers elevated deck and seeing all around you crystal clear tropical water in your own private tranquil bay with warm clean air flowing through your hair. Total privacy and serenity with the music of your choice softly playing in the background.
The excitement of Pattaya bay's dazzling lights is another option with fireworks almost daily during toursist high season. Or perhaps choose Monkey Island as your scenery? Known for its friendly monkeys, these cheeky little primates like nothing more than to join you at the dinner table, if you have children they will be delighted at an experience that will linger in their memories for ever.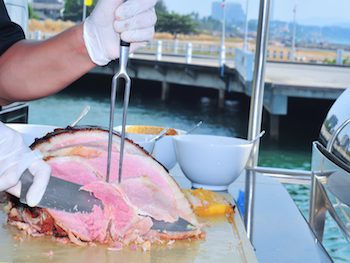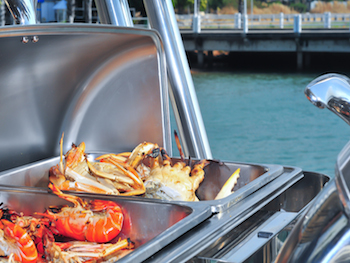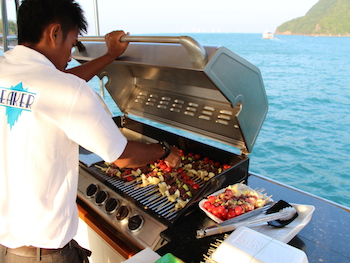 At Pattaya Yacht charters we do our very best to deliver tailor made cruises and charters for our guests, providing any cuisine that you desire, vegetarian, sea food, steaks, Thai, Indian, delicatessens or simply a huge selection of finger foods. If it's Indian food you're after our top notch Indian chef will delight your pallet with the finest quality fair anywhere in the region. Our superb Thai chefs offer Thai delights that are out of this world. Our partners at Ocean Marina Yacht Club catering department are so good that they provide special catering to many hotels and events all across the Eastern Seaboards of Thailand.