Having started her life as a ferry in Southern China some decades ago, she eventually made her way to Pattaya, where she was lovingly and painstakingly transformed into Pattaya's most stylish and comfortable entertainment platform.

The restructuring and restoration process, which took some 15 months to accomplish, left little of its original structure except for the hull and main structure, which by the way are much thicker and stronger than any other wooden boat its size in Pattaya. The wooden planks of this enormous boat are 2 inches in thickness. This is one of the reasons it carries the name "Icebreaker".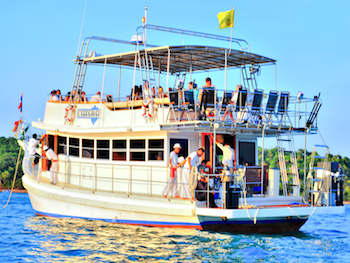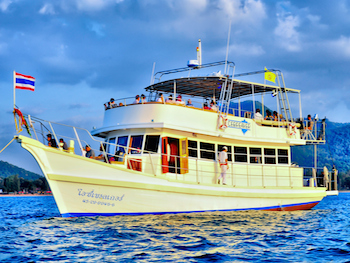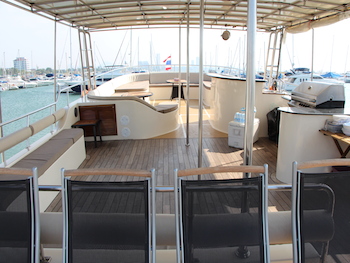 A lot of detail was put into the planning of the layout as we wanted to create a spacious open air experience for different purposes. The main feature is no doubt the huge upper deck, completely built in hand laid fibreglass. Two thirds of the upper deck are covered by a fibreglass hard top with 20 built in LED lights. It has a dining area for easily 18 persons, a super large Australian BBQ, a Bar with a black marble top made from one single slab and a great sound system that will even take Ipod's and CD's. At night you can relax with the mood lights on and even let the disco lights dance if you are up to it. The open area on the upper deck has ample room for sitting with extra pads for sunbathing. The cosy reclining chairs on the extended upper deck aft platform are also perfect for sunbathing or watching a serene sunset.

On the main deck there is a large salon circled by comfy sofas and seating. Ideal when you want to chill out or take a nap. However, if you need your children entertained for a while, there is also a flat screen TV and DVD player. The Icebreaker is extremely flexible and will definitely fit many different tastes and purposes.
Depending on the size of the party and the appetite, our boat has a full size fridge and 2 large ice compartments to take care of keeping the food fresh and the drinks cold. If you want to prepare the food you like feel free to use the micro wave oven or the gas stove on the main deck in addition to the BBQ on the upper deck.
There are also separate gents and ladies washrooms with spacious and clean toilets.

Safety is of huge concern to us at Pattaya Yacht Charters and we take this subject very seriously. ICEBREAKER has been certified safe to charter for up to sixty guests, but we have decided to limit this to 40 guests giving you and your party not only greater comfort on board but also a more personable service. Life preservers and flares are constantly checked for quantities and quality and our staff have extensive safety training.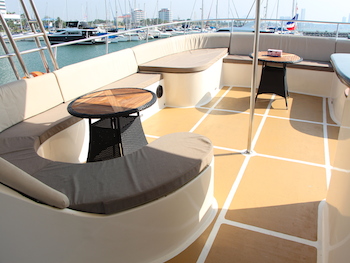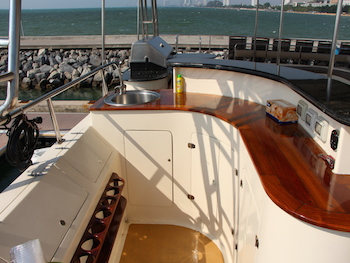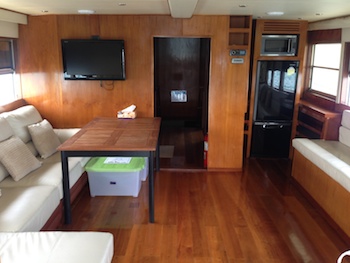 The "Icebreaker" is captained by an experienced crew who know the local waters well. The pilot house has all modern navigation features including GPS, Radar, Depth Sounder and Radio, allowing the Captain to steer the boar safely under any weather conditions. Events on the "Icebreaker" are always private affairs as the Captain's quarters, crew toilet and lilt house are separate from the guest activities.

If your day's activities include snorkelling or fishing, do not worry, on Icebreaker we have ample gear on board. You will only regret how fast time passes on a day out on the "Icebreaker". So many activities are available.

At the end of the trip the visitor will realise why the boat is named "Icebreaker", and that is not only because of its strong hull.