Pattaya City Bay
Pattaya's legendary party boat is waiting for you at Ocean Marina Yacht Club. Take a 4 hour luxurious cruise to Pattaya's famous bay with all its dazzling lights, fireworks and action. Have the entire bay as your view aboard Icebreakers incredible upper deck. Dance the night away on the custom made multicolored dazzling dance floor surrounded by comfortable high quality seating. Enjoy sumptuous steaks, seafood ribs on our top of the range huge stainless steel gas BBQ. Our professional staff will be behind the bar ready to make your favorite cocktails, spirits and ice cold beers.
The party really goes into overdrive on the moon lite cruise back to the marina where our VIP transfers will be waiting to take you back to your accommodation.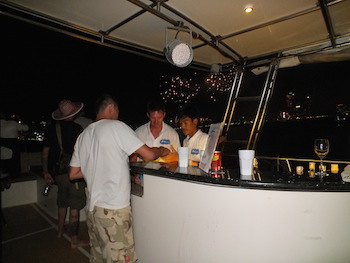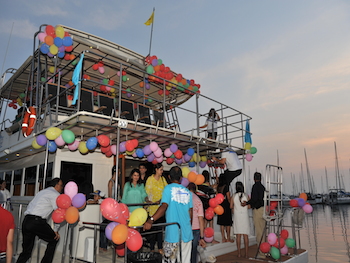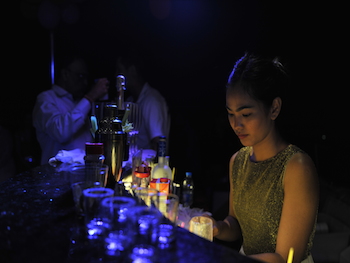 Monkey Island
Alternatively choose the secluded quiet splendor of the islands and anchor in your own private bay, take a swim in the crystal clear warm tropical water, high quality snorkels and fishing gear are supplied along with high quality cuisine of your choosing, drink a long island tea or a glass of champagne as tasty treats send wonderful aromas across the boat as they sizzle on the American BBQ. Then as the sun sets dance to our huge music selection, or bring your iPod and make the party our own on Icebreakers incredible sound system, or simply relax with an ice cold sundowner in your hand.
Whichever cruise you choose our staff will be more than pleased to make your VIP private luxury charter everything you could have dreamed of, and a memory never to be forgot.